Hope that everyone had a very nice Single Awareness Day. (Okay, okay, Valentines Day). If for some reason you can't be bothered to follow me on Twitter… and I can't blame you for that… here's a pic of my Valentine Nails. Clearly I was trying to win the Zoya Secret Admirer contest thing, but did not win, drats. Maybe because I accidentally covered up the A on the bottle and they didn't want Zoy to get all the credit.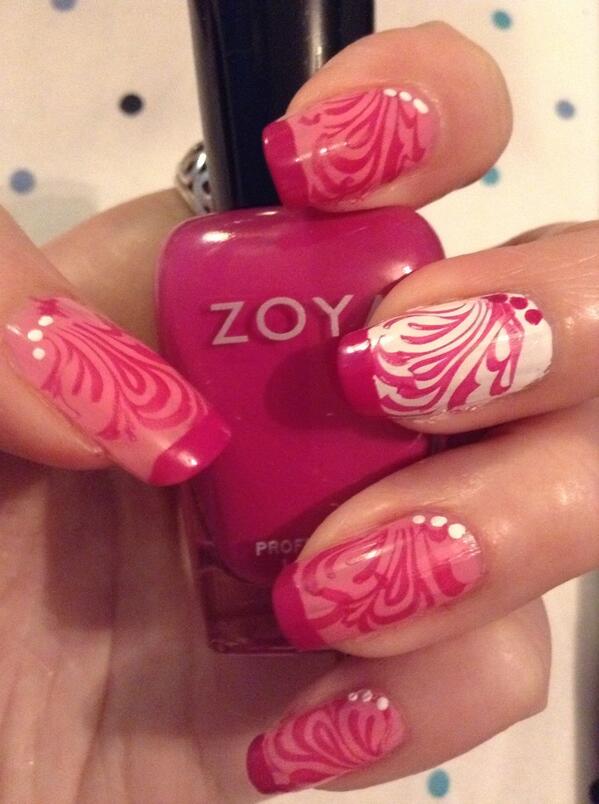 Anyway, clearly my Konad skills are a bit rusty because they turned out a little messy. I should've just used Special Polish because the Zoya was drying a little too fast for stamping. When that happens, it leaves little tails of polish that gets smooshed over the design. Very technical description, I know. Shortly after taking this picture I went to scrub pans, so they've got some tip wear now as well since I couldn't be bothered with a topcoat. Classy! I will probably just take it off and call it a day later tonight. I need to cut them anyway, I can type faster when my nails are shorter, which means more rambling for you guys. Sorry!
I also wanted to direct your attention to a very funny blog I discovered, Snacks On Rotation. She talks the way I talk inside my head, and that makes me happy and also feel less crazy. It's win win, basically. She also subscribes to more beauty boxes than …well, anybody, I think, so it's informative too.
And now for a slight rant. Have you seen the buy 5 bras get the 6th free program at American Eagle? Around November I qualified for the 6th one, and I was like YAY FREE STUFF. They're supposed to send a code in the mail, but mine never arrived so I emailed them. I was told that it could take weeks, and to just wait for it. So December rolls around, and I realize that the count resets in January, so I emailed them again. They wrote back and asked for some info which I replied with. They wrote again and very politely said they would send a code. Soon afterward, they followed through and sent me a code. I bounced around all excitedly and picked out my free bra and what do you know, the code was expired. I emailed them again, they sent another code. Also expired. I emailed them again, they said they would fix it and asked for both of the codes they had sent me. Okay. I wrote them and listed the codes. They wrote again and said they fixed the problem and to just use the first one. Tried again, still expired. I wrote them back and asked if I was possibly doing something wrong. They said no, it was on their end, and they would contact corporate to make sure the next code they sent me was valid. That was a month ago, exactly, and I still haven't heard from them. Now, I hate to complain about things. Especially free things. So I feel guilty about writing them so much. I've been as polite as possible in every exchange that I've had with them and I absolutely appreciate their (normally) quick and nice replies. But how long does it take to get a code that works, when they run this program at all times and clearly must be sending out these codes constantly? I'm not sure what to do at this point. I used to buy my bras from Victoria's Secret but they stopped having as many coupon codes on their site, and I realized it was a much better deal to get them from Aerie who has alot of coupons and often have free shipping/sales. The 6th free program was one of the main reasons I switched. Now I'm wondering if they send those free bra coupons through the mail hoping they will never arrive or be lost and that people just won't use them. I don't want to say that they're intentionally giving me the run around about it, but I'm not even sure what to say if I do write them again. Any thoughts? And has anyone else had trouble with this? I do most of my online clothes shopping at AE, but since this I haven't even bothered to go to the site. My ex has offered to call them for me since I don't like calling customer service, but I doubt he can do it without making someone cry, so I told him he needn't bother. What do you guys think, should I email them again or just let it go and hope they eventually write back?
Anyway, my February Birchbox preview will be up in a day or two. Have a wonderful weekend!